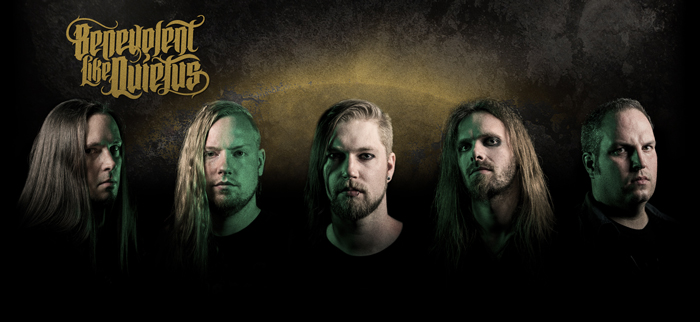 Hailing from the cold, dark winter nights of Calgary, Alberta, Canada; Benevolent Like Quietus brings forth a bounty of brooding, goth rock-influenced melodic metal.  Laden with heavy riffs, catchy melodies and crushing breakdowns, the 5-piece metal act lyrically exploits the joy in sorrow and strife within life, love and death.

Dabbling in gloom, BLQ is a dark, musical metaphor for the sweet kiss of death.  Collectively drawing influences from far and wide across the metal and rock spectrum BLQ has worked tirelessly to craft their own unique sound within the Canadian music scene.  Keen to revisit the era of 90's Scandinavian gothic/melancholic rock and metal, BLQ is a heavy and brooding whirlwind of emotion and melody.
Having the pleasure of sharing the stage with touring acts such as Katatonia, Wednesday 13, All Hail the Yeti, Final Drive, Caspian and Invidia along with being nominated in 2018 for 'Metal Recording of the Year' by Calgary's YYC Music Awards, BLQ continues to build on their live performances delivering a healthy dose of heavy, gloomy tunes to their audiences with no foreseeable end in sight.
 The debut album "Kill The Bliss" is slated for release on March 13th, 2020.